"The future is bright for British manufacturing"
Confident words from FC Laser managing director Danny Fantom, backed up by the
investment the company is making into its production facility, machinery and Team FC.
In this article, Daryl Lowe and Danny Fantom discuss the exciting new developments at FC Laser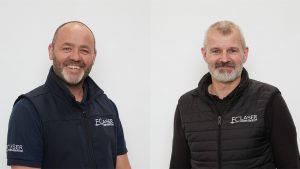 MD Danny Fantom (Left) Operations Manager Daryl Lowe (Right)
Why has FC Laser decided now is the right time to invest in expanding its production facilities?
DF: The company has been growing organically for the past nine years, we currently operate over three sites, so it makes sense to invest now to bring all of our divisions together to maximise efficiencies enhancing the future growth of our business. DL: Our operating capacity has had to grow in line with customer demand. We invested in a second 12 Kw Bystar Laser cutter, our fourth Bystar in total, in January to keep up with demand. With business operating 24/7 since the Summer of 2019, the further investment in the tower racking system and addition of a second tube laser is essential to manage and exceed our customers' expectations.
As we move out of COVID restrictions, how do you both see the next 12 months for British manufacturing?
DL: With businesses looking to source relationships within the UK, I can only look forward to the new opportunity this brings for Team FC. DF: The future is bright for British manufacturing and FC Laser want to be ready for the potential benefits this creates within our industry.
The following is an extract of July's edition of Engineering Subcontractor magazine
FC Laser has invested heavily in an additional 20,000 sq ft of manufacturing space to accommodate its forecasted growth The current head office of FC Laser, based in Ilkeston, has begun site clearing and the foundations of a second building running parallel to the M1 motorway are underway. With the tube division currently operating just over a mile away at the Quarry Hill industrial estate and a temporary site created for its ongoing project with Sapphire Balconies, the plan was made in 2020 to bring all operations to one site, further enhancing the production synergy throughout the business. This expanded production facility will provide the capacity to accommodate all of its ambitious expansion plans and provide a permanent home for FC Laser, who has already outgrown two previous sites in its 10 year history.