'FC LASER WILL BE CARBON NET ZERO BY 2030'
The hot topic, the problem of our time, the challenge we must collectively solve. Whichever way you frame the need to reduce our collective carbon footprint the problem remains the same. We have set out plans to tackle the carbon footprint created by FC Laser by 2030. A tall order, but one we are all determined to accomplish.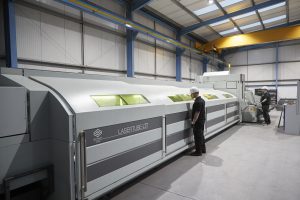 WHERE DO YOU START?
We asked the experts. The best bit of advice we have received is not to approach the problem half hearted and to make it a core business focus. We have employed an environmental consultant Richard Mounsey  who will work to evolve our business practices in order to cut down the carbon impact of FC Laser. We have already had some great early wins. Having signed up to have all of our energy provided by sustainable sources through British Gas. We are also well on our way to being '0' to landfill with a target date of 2023 for complete 0!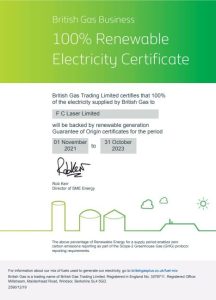 HOW DO YOU KEEP CARBON NEUTRALITY AT THE CORE OF THE BUSINESS?
As part of the changes brought in by Richard, all new and existing employees of FC are given environmental awareness training. This training is independently given by an off site consultant. This has been a conscious decision taken by the companies leadership team to make sure that the training given has the maximum impact. Our quality team are also working with department heads and consultants to achieve the ISO 14001 environmental management certification. We aim to have the ISO 14001 certification in place during 2023. More information on ISO 1400's certifications can be found here .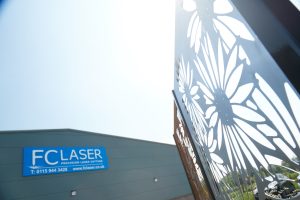 WHAT HAPPENS NEXT?
We are in the process of replacing all company vehicles with fully electric counterparts. Our team have already taken delivery of six all electric vehicles, with more vehicles arriving over time. Richard has also began the process of sounding out potential carbon offsetting forests, moors and kelp fields. The aim is to keep all of our customers up to date with the progress we are making and to work with our supply chains to cut the carbon footprint.